Great Toys for a 6 Month Old
This post contains affiliate links which means if you click and buy I may make a commission at no cost to you. See my policy for more information.
6 months. I can't believe it. Somehow we've reached 6 months of immeasurable joy and exhaustion with this perfect little human. In honor of that milestone, today I'm sharing with you a round-up some great toys for a 6 month old! Most of these have been some of his favorite toys for a little while now, so they very well may change tomorrow, but for now I wanted to put into writing the things that bring him joy at this moment. Because these moments fly by in a blink of an eye (as evidenced by the fact that we have a 6 month old!)
This has been one of his favorites for several months. It was gift that we had never heard of previously, but Little Man LOVES it. The toy is lightweight with a soft tail (what they call the "feather"). He loves having it gently caressed over his face and body. It soothes and distracts him, which is a major plus in my book! Plus, it rattles slightly and has a handle on the back so mom or dad can hold it easily when interacting with baby. Little Man is especially enjoying the soft silicone ring (BPA and Phthalate free) during the last week or so as his first two teeth have just recently showed up! Seriously, this kid is growing up too fast — I can't handle it!
I LOVE Comotomo. I had never heard of this brand before Little Man entered our lives, but their baby bottles (found here) saved my life when I headed back to work. And teethers are the bomb. Our little guy loves them both – which means we love them both. Since Little Man is currently teething, these teethers are fantastic. They have an odd shape, but he can chew on the ring or the spokes and they are easily held in his little baby fingers. The spokes aren't so long that he's hitting his throat when he is jabbing it into his mouth, but they appear to be long enough that he's able to get a good chew going with his back gums. This saves my fingers from those pointy pearly whites coming in, since he had been trying to chew on my fingers! So, obviously, they're great toys for a 6 month old!
I'll be honest, this one may be a hasty addition. Only because we pulled this one out for him this past week, but I wish I had pulled it out sooner! It has been great because he has so many little pieces of entertainment available to him on the tray. A tray, mind you, that goes all the way around. He basically never gets bored! Not only does he not get bored, but he can't drop things constantly like he does in other chairs. He loves the fact that he can turn himself around completely (since he really wants to move all of the time). And when he's excited he can get a good bounce going! So far, this seems like a total hit with Little Man!
So… Hubbaloo and I are both totally obsessed with all things Harry Potter (I know – total nerds. We're 100% OK with that). In honor of our geekiness, we were gifted this at our baby shower before Little Man arrived. Like I mentioned for the fox above, he LOVES tags, so this toy is basically his dream toy. It has tons of different kinds of tags and it crinkles when he holds it. There is a soft minky, fleece textured backing that contradicts the polyester front where all of the images are found. Plus, this easily fits into his diaper bag, so its a handy, take- anywhere toy! If you're not obsessed with all things Harry Potter (heck, maybe you don't even like Harry Potter *gasp*), the link will give you 23 additional options for the images on the front of the toy.
Infantino GaGa Playtime Pal Fox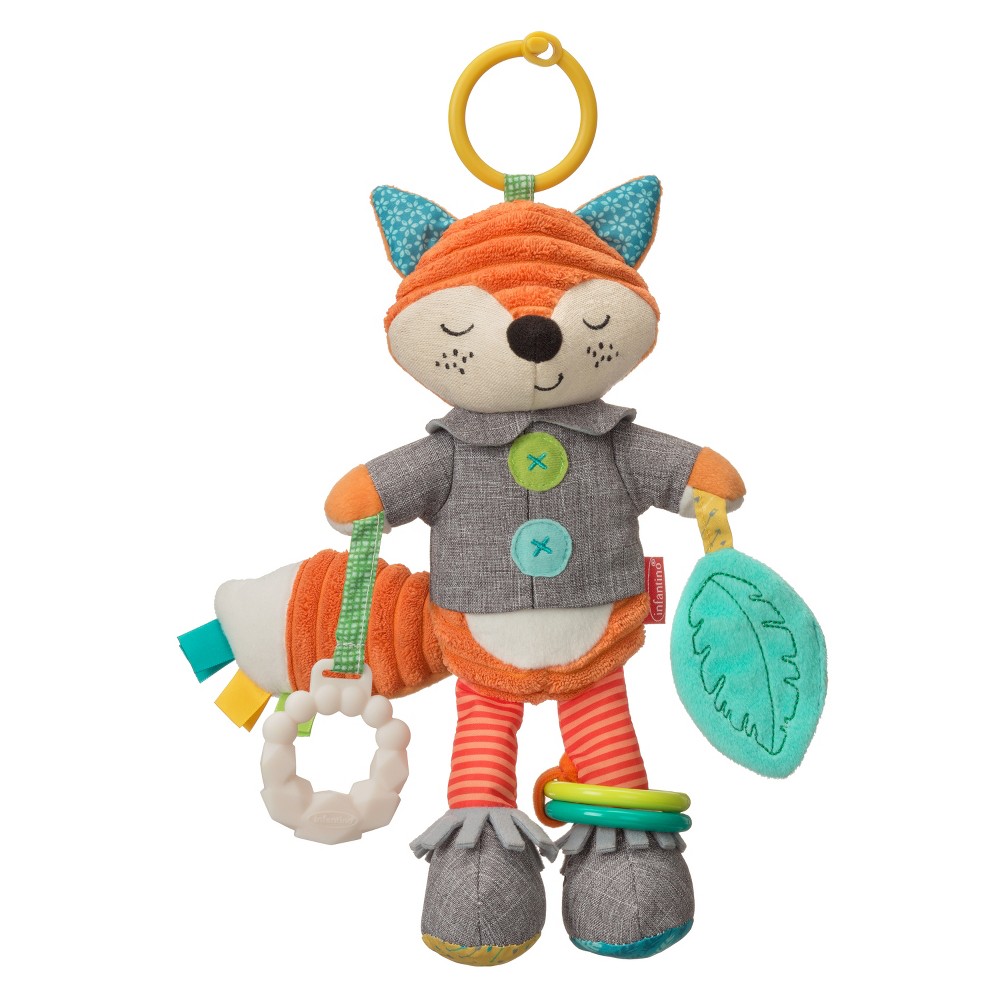 This has been a favorite for about 2 months, and it seems to be holding strong. It has a crinkly leaf that makes a fun noise and is easy to chew on. Since the jacket, the body of the fox, and the leaf are all made of different types of fabric, it is a sensory dream! It has tags on the tail, which Little Man LOVES to chew on. Bonus –there is also has a teether (noticing a trend here?) along with colorful rings that he likes to clink together and chomp his little gums down on. Its definitely one of his favorite toys right now and a great toy for a 6 month old.
You may want to check out: